W
e are delighted to announce the recent entry into Etesian Marine's exclusive dealerships , the luxury Swedish shipyard Delta Powerboats !
Founded by a Swedish team of experienced yachtsmen and boat builders, the Delta philosophy is rooted in a strong tradition of Scandinavian yacht design. Our journey began with a limited range of pilothouse boats built for fast, comfortable and efficient island commuting in the archipelagos of Sweden. Today the range has evolved and encompasses agile day cruisers, versatile hardtop cabin cruisers and luxury-class performance yachts made of carbon fiber. Core features found across the range are our strong and user-friendly design concepts and high build quality along with outstanding fuel efficiency and hydrodynamic performance.
In 2007 we introduced the Sidewalk concept with Delta 29 sw. An asymmetric deck arrangement that facilitates safe passages between the aft and the bow of the boat while providing increased interior space. In 2010 we challenged the status quo of the motoryacht industry whith the launch of Delta 54, the first production powerboat in the world made of carbon fiber, yielding a reduction of fuel consumption and emissions with up to 40 percent in our Carbon series. The pioneering  54 ips and the flagship 88 carbon have both been appointed winners at the MB&Y Motor Boat of the Year Awards.
The pursuit of innovative solutions, new materials and technologies allows us to continuously refine our range and make the boats even more comfortable, safe and efficient. So far, a total of 600 Delta have been built and delivered to owners all over the world.
Manufacturing
Founded by Lennart Alpstål as Luksusjaht AS the factory employs around 140 technicians, carpenters and workers and holds a construction capacity for boats up to 100ft. Delta Powerboats production process is certified according to the requirements of the Environmental management system (ISO 14001) and Quality systems (ISO 9001). Aside from incorporating the production line of our own boats the facility also has a legacy of building sailing yachts as subcontractor for brands such as Arcona and Nautor's Club Swan.
Authentic craftsmanship
While some builders are competing with cost-cutting options and outsourced solutions, Delta is heading in the opposite direction. We believe that building reliable boats with a  consistent quality requires a controlled construction process and skilled craftsmen who takes pride in their work. To that end, the interior woodworks of Delta Powerboats are all handmade by experienced carpenters employed at the factory. The stainless steel fittings along with many other exterior details are custom-made in-house and the teak decks are hand crafted from selected wood and perfectly laid with methods inherited through generations.
The most modern technologies
In addition to being staffed by devoted craftsmen our production process benefits from the use of the most modern technologies and advanced composite components. With the yard's Poseidon 5-axis milling station we have capacity of milling molds up to 26 meters in length. For the layup process the hull components are laminated and weight-optimized using vacuum infused core technology. A method that enhances the structural performance by providing increased strength, stiffness and distribution of loads and stresses to the material. Furthermore, it is a sealed process that is both safe and environmentally friendly as it emits no harmful substances. Delta has utilized vacuum infusion since 2006 for GRP and carbon fiber composite as it allows us to develop the most sophisticated hull component.
Quality controls & approval
Our commitment to deliver reliable boats of superior quality forms the foundation for everything we do and extends to the moment the boats sets out on their maiden voyage. As a final stage in the build process the hulls are examinated in sheltered  basins followed by launching and a series of sea trials. After thorough assessment of structural and technical performance further evaluations are performed prior to approval of delivery by the owner. This is our way of ensuring that all boats leaving the factory meet the highest possible quality requirements, that they are trustworthy and can be enjoyed for many years to come.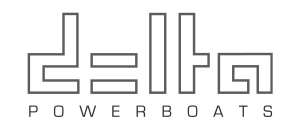 The inventive spirit