Functional, majestic and elegant.
She looks truly great and she rides in a majestic way. She is the queen of our range.The displacement is a whopping nine tons which gives a bit of credibility in most maritime situations providing a soft and dry ride. This unique 36-footer offers two spacious cabins as bedrooms, two toilets and a separate shower cabinet.The vessel's elegant utility character is most notable in the tasteful interior and multiple gathering areas. Sargo 36's cabins and cockpit have the unmistakable Scandinavian flair of clean lines, well-tested ergonomics, a palette of cool colors and an array of brilliant practical details. It's hard not to notice and appreciate the overall quality of this stately yacht.
No need to struggle yourself for expensive "custom solutions" so called. Just buy a ready SARGO!
√ The oldest Finnish shipyard in the pilothouse category since 1967!
√ 100% hand-made in Finland
√ Heavy-duty construction to withstand rough seas
√ Built it your way
√ Let the outside in – Sunroof
√ Tough, Sporty, Exhilarating
√ Wide walk-around – One level deck -No steps
√ Sides and Aft Door, 2 Spacious Cabins, 1 or 2 WC, rich equipment as std.
√ Weight: 8.400Kg!!
√ Cozy, Modern, Luxurious Scandinavian design of the 21st century!
√ Price is EXW, 0% Vat
SARGO
FOLLOW THE LEADER
| | |
| --- | --- |
| MODEL | SARGO 36 AFT DOOR |
| YEAR | 2022 |
| LENGTH OVERALL | 11,80 m |
| BEAM | 3,60 m |
| DRAFT | 1,10 m |
| DISPLACEMENT | 8,4 t |
| ENGINES | 2 x 340HP DPI VOLVO PENTA |
| CRUISE SPEED | 31 knots |
| MAX SPEED | 36 knots |
| FUEL CAPACITY | 860 l |
| FRESH WATER CAPACITY | 300 l |
| BERTHS | FRONT CABIN: 2, AFT CABIN: 2, PILOTHOUSE: 2 |
| BATHROOM(S) | 1/2 |
| MAX NUM. PASSENGERS | 12 |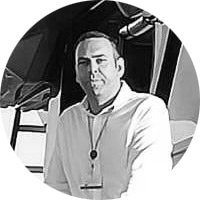 Dimitris Sakellariou
Managing Director
+30 694 694 5267
info@etesianmarine.com